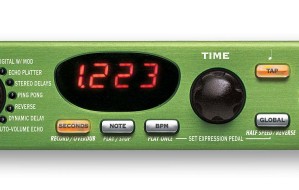 I bought a Line 6 DL4 pedal, which I thought was pretty cool. I used that on a few songs and was always frustrated the delay was in stompbox form. I don't really have a good place in the studio for these things.
Come to find out, Line 6 made a rack mount version called the Echo Pro. It's the same guts with a few extra features – including patch saving.
I dug around on Craigslist until I found one. If I uncover another, I might buy it. As a basic delay, they're great. To add a hint of analogue degradation to your delay tails, this does it perfectly.

Echo Pro Studio Modeler Features:
24-bit processing and A/D/A conversion
99 User definable programs
MIDI Clock Sync
Tap Tempo
Innovative Tempo controls translate between seconds and BPM
Musical note variations for rhythmic freedom
XLR (balanced) and 1/4 inch (unbalanced) Inputs and Outputs
MIDI in and software selectable MIDI out/thru
Input/Output Level controls
A variety of mix options, including: Dry, Analog, Input Mute and All Mute
Completely user definable MIDI Map
TRS Stereo in/out for convenient effects loop connectivity
Universal power supply
Echo Pro Studio Modeler Models based on*:
Maestro EP-1 Tube Echoplex
Maestro EP-3 Echoplex
Roland RE-101 Space Echo
Sweep Echo (filter-swept delay)
Boss DM-2 Analog Delay
Electro-Harmonix Deluxe Memoryman
Lo Res Delay (variable from 24 to 6 bits!)
Digital Delay
Digital Delay with Modulation
Magnetic Platter Echo
Stereo Delays
Ping Pong
Reverse (xirdneH imiJ ekil tsuJ)
Dynamic Delay (t.c. electronic 2290)
Auto-Volume Echo
…and 60 Second Loop Sampler