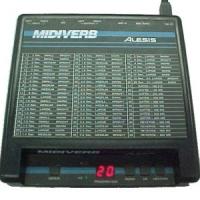 The original half-rack, funky, reverb. I've had this thing since they first came out.
I pulled this out of storage and remembered something, it had a bad output jack.
The left output RCA jack had died years back. I couldn't find a replacement jack to fit on the board so I decided to do a quick fix on it. I inserted a cable through the RCA jack and soldered it in place. That seemed to work well enough for me at the time.
Looking at the state of the unit today I noticed the insulator in the RCA jacks has become quite dry and crumbly. This may or may not cause problems down the road so I decided to do a slight modification.
Now, I am against doing major alterations to units that are becoming somewhat hard to find. I like to keep things as intact as possible. I considered ripping out the RCA jacks but there really isn't a need. I'll just go with my first concept. Feed some wires through the RCA jacks and end them with some nice 1/4 inch phono jacks.
This worked like a charm. My original Midiverb has found itself once again wired to my effect patchbay. I have to say, I LOVE patch 50 – a 20 second dark reverb. So gritty.
The only thing I don't like about this unit is the lack of a power switch. My old effect units only get powered up when I use them. I guess I'll need to figure out some sort of power switch for it.