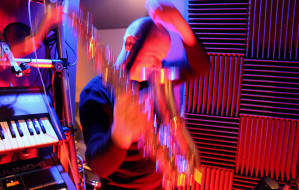 Song Notes: This is kind of a quirky little song. I was really sick one day and thought to myself "myself, I should use the fact I can barely speak to this songs advantage."
There is a crapload of tracks on this song and, after this song was mixed, it prompted me to trade out my Mackie line mixer sidecar for a 16×4 Mackie Onyx mixer.
Part way through writing this song I looked around in the studio and saw all the wacky little percussion instruments I've bought and haven't used in a song. So, I rounded up a pile and fired up my new ribbon mic for a test. I've got a couple tracks of bongos, clave, guiro, two different woodblocks, and a funny little bamboo slappy thing I found at a Japanese dollar store. (I think that's everything.)
Copyright 2013: Seven Graylands
---
Lyrics:
I don't hear the whispers, idiot me
I don't take the hints now, idiot me.
Half the time I'm driving blind
In the foggy road that is my life
I don't know where I'm going, idiot me.
Now I can't read the signs now, idiot me
Unaware of dangers, idiot me
There's a closed road up ahead
It's hard to tell why I'm not dead
Pedal to the floor now, idiot me
Nothing seems to open up my eyes
I'm just an idiot
I can't differentiate the lies
I'm just an idiot
Nothing seems to open up my eyes
I'm just an idiot
I can't differentiate the lies
I'm just an idiot, idiot
Now I can't read the signs now, idiot me
Unaware of dangers, idiot me
There's a closed road up ahead
It's hard to tell why I'm not dead
Pedal to the floor now, idiot me