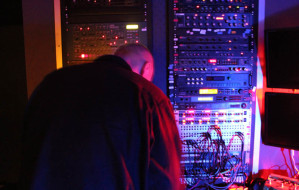 Track Notes:
So many metaphors, so little time. You get to figure out what this song is about.
This track is my introduction to my brand new musical genre – a mixture of Jazz and Gothic rock – which I call "Joth". Someone came up with the term "Gazz" but, like assholes, they trademarked it. I also heard a little of "Gazz" music and it sounded like Kenny G got depressed. Not really what I was after. So.. Joth was born.
This track is sort of a continuation of what I was playing with on "The Ghosts of December" – but with new material. I like this direction and I think I'll do more with it.
Recording/Mixing:
A basic layout with a drum line, upright bass, piano, sax and guitar.
I wanted to give this track atmosphere with a lot of space. I also wanted a large dynamic decibel range with quiet sections and really loud sections. I guess this is my rebellious way of going against the grain of new music being overcompressed at maximum volume within inches of its life.
There are a few effects added to achieve the atmosphere in the track. On low piano chords I added thunder sounds with a crapload of reverb from the MidiVerb 1 and M-One XL. There are a few crashes with layered delay – first out of the M-One then to the Midiverb 1. This gives it a slight delay before the sound expands. This is a little trick I learned from The Art of Noise years ago. It is a nice effect but I don't often get a chance to use it.
The vocal delay is a mixture of delay from the ADA 2.56i and my new Line6 DL4 (the DL4 outputs to the right side).
There is a soundscape in the background during some parts of the song and at the end. This is a mish-mash of sounds I assembled. I don't even remember what they are.
There are three vocal lines. The main one which I recorded with an extremely hot microphone and, in some parts, I'm barely speaking. The other two tracks are the last vocal lines where I am literally shouting as loud as I could. Those two tracks are mixed hard left and hard right in the background.
Copyright 2012: Seven Graylands
---
Lyrics:
Its there
They said
Down below
Keep going
They said
You have to dig
The more you dig
The deeper you go
The deeper the hole
The closer you are
Keep digging
To find it
Dig deeper
Under the ground
The more you dig
The deeper you go
The deeper the hole
The closer you are
Keep digging
To find it
Dig deeper
Under the ground
And so
I go
Into the soil
I'm going
To dig
I have to dig
I'm working
To find it
I dig deeper
Into the ground
This hole
Gets deeper
The only thing I find in the hole
Is me