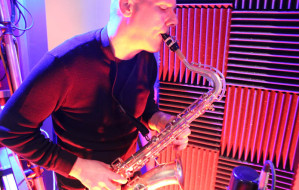 Track Notes:
One day the sun will expand into a red giant. Sounds like a good excuse to have a party.
Recording/Mixing:
A basic format: a drum line, congas, bass, sax and two guitars – plus a handful of explosions, crashes and other random things that go "boom".
The rhythm guitar line was recorded in two track stereo. I mixed one side with a touch of distortion and put it in the centre channel. The other track was sent to the DL4 delay and placed on the left channel. The output from the DL4 goes to ADA 2.56i, set to a tight flange, and the ADA output goes to the right channel. This widened the sound out.
There are about 6 vocal tracks. The main one and 5 backup "shouty" tracks.
The main vocals are overcompressed and sent through an amp simulator.
A special thanks to Katherina Sophia for coming in and helping with the backup vocals.
[audio:http://www.graylands.ca/6681/Seven_Graylands-Discarded_Angels-06-Cinder.mp3]
Copyright 2013: Seven Graylands
---
Lyrics:
We're moving silent
We move like a serpents
This cold dead black heart we keep in a box
We keep collections
Perverse selections
The metal and the soul transcends us all
Head down, Walk proud
This human wanting
This human craving
The skin has tales of desire
Black leather
Whips
..or whatever
The sun goes red, expands, and loves us all
We turn to cinder
We turn to dust
Abiogenesis has nothing on us
We turn to cinder
We turn to dust
Half-life dead stop
They all go absent
These gods desert us
We take our paradise and do what we want
With no more futures
Remove the sutures
Open up the flesh and let it flow
Last call countdown
It's the beginning
Of this new ending
We're all new gods we bring rain
And lightning
And thunder
The sun goes red, expands, and loves us all
We turn to cinder
We turn to dust
Abiogenesis has nothing on us
We turn to cinder
We turn to dust
Half-life dead stop