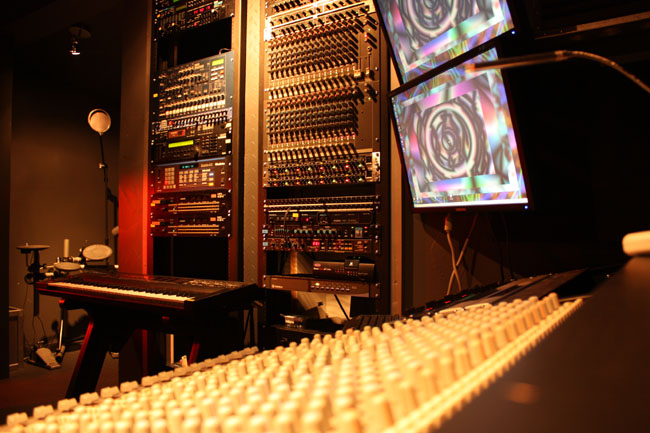 [audio:http://www.graylands.ca/1122/Seven_Graylands-Souls_In_Darkness-00-The_Moments_Dead.mp3]
---
Track Notes:
There were two versions of this song. The original was recorded with just Todd and I in my home studio. The second was recorded about 8 months later in a 16 track studio and included Martha on violin.
I think we were in the right direction with the original so this third (final) version is based on that.
Recording/Mixing:
The bass guitar was sent really hot through the Peavey 4530 Delay set to flange. It was a mistake at first but I liked the slightly overdriven sound so I left it.
Three drum lines. One a standard kit and two tom tracks. I played the toms twice to fill the sound up (I do love big drums).
The synth is the Korg EX-8000. The synth crashes are the Juno 6.
There is one guitar line and one vocal line (and one background shouty vocal line).
This track is the reintroduction of my original MidiVerb to the studio (it sat in the bottom of a box for years). I had just fixed it up and tried it out during the mixdown of this track. I liked the sound so I kept it. The really long warm reverb on the vocals is the MidiVerb. The shorter reverb (you can hear it on the toms) is the Sony R-7.
Copyright 1984-2011: Graylands/Nelson
---
Lyrics:
The blinking of bright light
Your life flash in front of your eyes
The taking of photos
Her soul is trapped in paper
Beliefs that now are true
The saving of photos
The saving of photos
She once was a person
A mind like you and I
She's now an idea
Caught in the public's eye
Oh why
Her soul is trapped in paper
Beliefs that now are true
The saving of photos
The saving of photos
The photo eternal
Its flat the future gone
The moments dead
The moments dead
The moments dead
The moments dead
Oh why