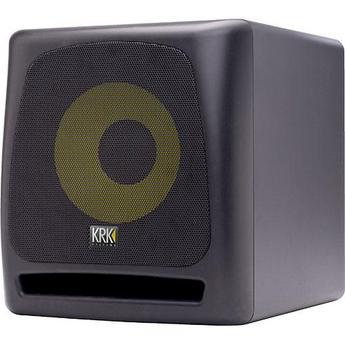 I added the KRK 10s subwoofer to the studio. I heard of people being happy with this subwoofer paired with the Adam A7 monitors. They go well together. It didn't take me very long to get the two in line with each other.
I shot the room after a rough ear test. Here are the results using a 20-20k sine wave (I bypassed the console and went straight out the reference interface to the monitors).
Overall, I'm pretty pleased. The KRK 10s rounded out the low end without being too woofy or hollow sounding. With a little playing I can even things out a little.
The KRK 10s comes with an on/off switch port. The subwoofer doesn't come with a switch but it takes any common 1/4 inch phono plug footswitch you'd use for a guitar amp (or something like it). I had one sitting around in a box and hooked it up. It's handy to be able to switch the sub on and off from the console.
The specs on the 10s are:
Drivers: 10″ High-Excursion Glass Aramid Composite Woofer
Frequency Response: 34Hz – 50Hz – 130Hz Variable +/-1dB
Max Power: 225 Watt (peak) Powered Subwoofer for Studio Use
Low Pass Filter: Variable and Sweepable Low Pass Filter
High Pass Filter: 80Hz
Maximum SPL @ 1m: 110dB Music and 113dB Peak
Dimensions (H x W x D): 15″ x 14″ x 16 1/6″ / 38.2cm x 35.5cm x 40.8cm
Weight: 40.2 lbs / 18.24 Kg