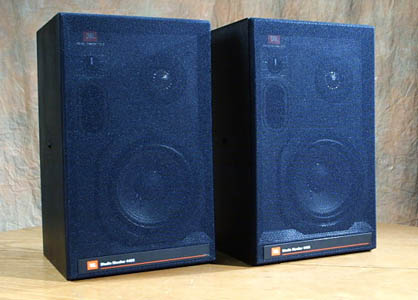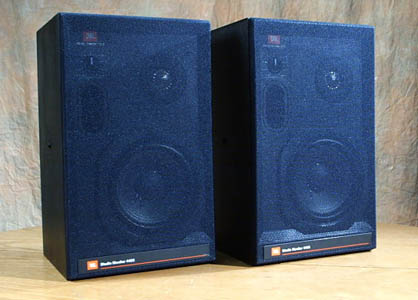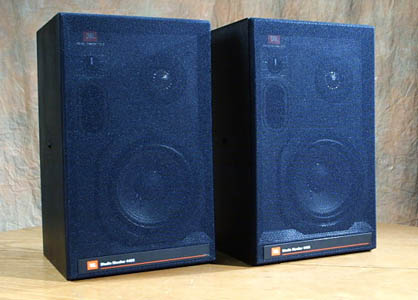 Insert standard company propaganda….
The model 4406, part of the 4400 series, is an excellent choice for music recording, broadcast and post production monitoring. JBL monitors utilize sophisticated design techniques and high performance materials, such as titanium, neodymium, polypropylene, kevlar, and carbon fiber composites to provide smooth, accurate sound reproduction. Each model 4406 is a wall-mountable, 2-way monitor system featuring a 6.5 inch woofer and 1 inch titanium dome tweeter.
The 4406 is the most compact of JBLs studio monitors and is intended for use where space is restricted. Its close driver spacing produces a coherent sound source, making it ideal as a direct-field monitor for console placement.
The 4406 reflects the same design principles which characterize all JBL monitors: smooth overall response, controlled dispersion, and the ability to produce high acoustical output with little stress. Optimum enclosure porting and careful network design ensure smooth response, which extends lower in frequency than is usual for an enclosure of such modest size. Response to 27 kHz ensures that the upper musical octave ( 10 kHz to 20 kHz) will be reproduced with complete accuracy, thus making the 4406 ideal for monitoring critical digital and advanced analog recordings.
FEATURES:
Frequency Range: – 6 dBJ: 45 Hz-27 kHz
Frequency Response: + 2 dBJ: 55 Hz-20 kHz
Sensitivity: 87 dB SPL, I W (2.83 V), 1 m
Power Rating: 75 watts, pink noise
Transducer Complement:
165 mm (6.5 in) LF, filled polypropylene cone
25 mm (1 in) HF, pure titanium dome

Acquired: 1996