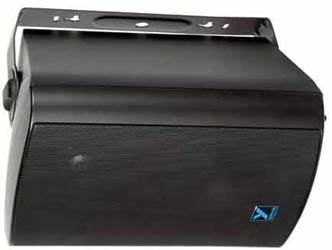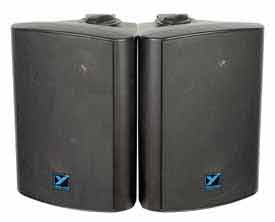 One thing lead to another and I ended up with ten (yes, count them TEN) Yorkville C130/70 speakers.  I decided to put a pair in the studio as general monitors for checking mixes. The c130's are wired into the Transnova amp. I'm considering putting another pair on the back wall of the studio near the keyboard racks. Then when I'm working on something the music isn't hitting the back of my head. I mean, why not? It isn't like I'm short speakers now.
---
X-ray style specs.. taken from the Yorkville site.
The Coliseum C130 is a compact loudspeaker in the 100-watt range with a 6 1/2-inch driver and 1 inch Mylar tweeter.
The trapezoidal shape makes the C130 ideal for install or array mounting in tight locations. Weather resistant plastic enclosure and Mylar components mean the C130 can be used indoors or outdoors, ideal for foyers, patio systems for music and paging systems. Shipped with a rugged proprietary U-bracket for wall or ceiling mounting, they may be the most versatile and cost-effective solution for small installations, or as a repeater or fill cabinet in larger venues.
The C130 is available either in an 8-ohm version, or as a 70-volt multi tapped transformer version designed for fixed installation systems (C130/70). The integrated 70-volt 'matching transformer' allows multiple C130/70's to be connected together without danger of overloading the power amplifier due to impedance drop. The user has a choice of three sensitivity settings (6W, 12.5W, 25W or bypass). Black or white versions are available.
System Type: Two Way
Active or Passive: Passive
Program Power (Watts): 100
Nominal Impedance (Ohms): 8 (70 volt optional – C130/70)
Sensitivity (dB @1Watt/1m): 96
Max SPL (dB): 116
Frequency Response (Hz +/- 3db): 75 to 20000
Driver Configuration: 6 1/2 inch / 1 inch dome tweeter
HF Driver(s) : 1 inch Mylar Dome Tweeter
LF Driver(s): 6 1/2 inch
Inputs – 1/4″ Jacks: Yes – Two
Inputs – Binding Post: Yes
Other Controls / Features: Available in 70-Volt version C130/70
Included Hardware: Mounting Bracket
Optional Covering / Finishes: Available Black or White (C130W)
Dimensions (DWH xbackW, inches): 11.5 x 8.5 x 7.5 x 3.5
Dimensions (DWH xbackW, cm): 29 x 22 x 19 x 9
Weight (lbs/kg): 6.6 / 3.2