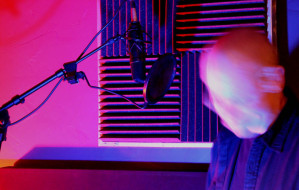 Song Notes:
I don't have much to say about this song except what the vocals say. I had originally entered the studio that day to write something with a lot of distortion, grrrrr and yelling – instead I ended up with a mellow, lush, sweeping track. That's how it goes sometimes.
Recording Notes:
I used a bunch of stuff in this track. Outside of the piano, bass guitar, drums and acoustic guitar, there is a track of bongo drums, accordion, guiro and a few synth lines.
I've been wanting to try and use an accordion in more songs and I think it fit nicely in this song. I even managed a little accordion lead.
The main synth pad is the Roland JP-8000. The little twinkling glimmer sounds and a few other effect sounds are the Alesis Ion.
The vocoder effects are with the MAM VF-11 analog vocoder. I used the Juno 6 as the carrier signal.
Copyright 2013: Seven Graylands
---
Lyrics:
Reaching out through global wires
We gaze across the digital spires
No hands to hold but the words transpire
Counting friends which we acquire
We make the daily pilgrimage
We read the words and see the image
Bow our heads as we acknowledge
We're building gods out of nicad voltage
(vocoder)
Binding networks for colonization
No desires for tactile sensation
Gaining knowledge through instant translation
Speaking only in abbreviation
Connected, disconnected, so serene in this quarantine
Connected, disconnected, so serene in this quarantine
They are well known, but all alone
Touch the screen. It's like a dream
Connected, disconnected, so serene in this quarantine
Connected, disconnected, so serene in this quarantine
Extending out our mortality
Bound to machine anatomically
We shall make this transcendency
And finish life through LCD
(vocoder)