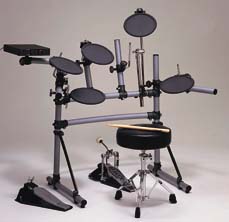 I use the TD-5 for programming "real" drum tracks. It's one thing to tap out the track on a keyboard but playing the drum tracks with sticks gives the track a more human feel.
With this kit I have 5 single trigger PD-5 Pads, two CY-8 cymbals, one CY-5 cymbal and 1 PD-7 dual trigger pad.
Insert standard information…
The TD-5 is a pro-quality sound module with a huge library of percussion instrument sounds, built-in effects and eight dual-trigger inputs.
210 preset instruments
32 user-editable preset patches
8 dual-trigger inputs for use with PD-7/9 Pads, PD-5 Pads, KD-5/7 Kick Trigger and FD-7 Hi-Hat Controller
Onboard effects processor with reverb
Inputs are well-suited for use with acoustic triggers
Stereo outputs
Full Hi-Hat Nuance CV
Cymbal Choke Capabilities