The LM-3204 Pro Tour Line Mixer packs more inputs into less rack space than ever before. You get 16 stereo channels (32 mono inputs) plus 4 stereo aux returns (8 extra mono inputs), and two mic preamps.
Each channel has four aux sends (accessible via two controls and a 1-2/3-4 switch), 3-band EQ, constant loudness pan control, stereo in-place solo for easy level setting, our signature Mute/Alt 3-4 extra stereo bus, overload LED and an ultra-sensitive -20dB Signal Present LED. Room and Phones monitoring, each with its own output and level control. Both can tap into the main L/R buses under normal conditions, tape deck output when the Tape Monitor switch is pushed in, or the stereo solo buses when any Solo switch is pressed.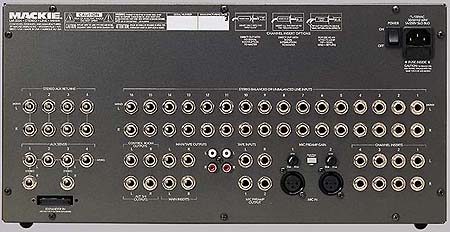 Source Alt 3-4 switch. In the up position, Aux Return 3 is a normal aux return. When Source Alt 3-4 is kicked in, Aux Return 3's inputs are disconnected and the outputs of Alt 3-4 buses are routed into Aux Return 3 so you can use Alt 3-4 as a pair of sub-buses and then remix them back into the main L/R buses.
Aux Return 4 to Control Room Only switch routes Aux Return 4 to the Control Room & Phones circuits (and then mixes back in with Left and Right signals on the way to the monitor section). This lets you "wet monitor" (listen to an effect without actually hearing it in the main L/R outputs), or "play along" with a cue or click feed without having it go onto tape.
2 mic preamps! Even though the LM-3204 is billed as a line mixer, we included a pair of studio-grade, low-noise mic preamps (complete with switchable phantom power). They can be patched to any of the mixer's input channels. That makes the 3204 perfect for small lounge acts, sampling live sounds or in a project studio where you're the only singer.
Easily expandable with LM-3204Es. Basically, an LM-3204 without a master section, an LM-3204E can "daisy chain" to the main mixer via ribbon cable in minutes.
This was a pretty good little mixer but I found it hard to use the little knobs. I retired this and bought a Mackie Onyx 1640 to use as a sidecar.

Acquired: 2008