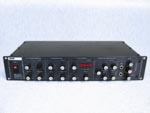 This is a strange 2 unit rack mount multi-effect from the 1980's with a 5 button petal board. It has "Heavy Metal" Distortion, Flanger/Chorus, Digital Delay, and a Parametric Equalization. All effects are chained in that same order. All aspects of the effects are all controlled by knobs. There are no programmable settings. You want a sound, you have to turn a knob. The controls are as follows:
Heavy Metal Distortion:
-Distortion
-Level
-Low Boost
-High Boost
Flanger/Chorus
-Speed
-Width
-Delay
-Regeneration
Digital Delay
-Delay
-Delay Time (a red LED readout which goes from 35 to 710)
-Mix
-Repeats
Parametric Equalization
-Level
-Low Frequency 200-800 Hz
-High Frequency 800-3.600 Hz
-Low Frequency Cut/Flat/Boost
-High Frequency Cut/Flat/Boost
The front panel also contains a power switch and knobs for Input, Output and "Enhance" – which appears to give a bit of high end to the main output.
The main face has a main input and main output 1/4 jack. On the rear there are a number of jacks for routing. These are Main in, Main out, Distortion out, Flanger/Chorus in, Flanger/Chorus out, Digital Delay in, Digital Delay out, and Equalizer in. There is also a jack for the multi-switch foot petal (which is connected with a standard TRS 1/4″).
The distortion, flanger/chorus and EQ are analogue. The delay is digital.
The sound of the DOD 944 Chain Reaction is interesting. The flanger/chorus on the DOD 944 is really nice. It has a lovely, warm analogue sweep to it. The delay has a nice sound with slight deterioration at the longest tail. It doesn't have long repeats or an infinite repeat setting – which is kind of a bummer. That would make this unit shine. (I might try to mod it with a larger pot on the repeat just to see what happens.) The distortion is, well, distorted. I'm not sure what to compare it to. Its edgy though. The EQ is in a good range for guitar and does as advertised.
My single biggest complaint with this unit is you need the foot petal to activate the effects. There is no way to switch them on and off from the rack unit itself. As I plan on having this in the studio to be used on anything and everything, I don't really need the foot petal. Sadly the foot petal is longer than 19″ so I can't just rack it. It isn't straight mechanical on/off switches either. The petal board contains various IC's of unknown voodoo origin (I haven't looked them up yet). The good news is the board is in two pieces and I'll be able to remove it and shove some switches and LEDs in a rack face. It also looks like I can do this without destroying or modding the unit too much so I can re-assemble the petal board later if needed. I don't mind making major defacing mods to thrashed equipment but I try not to alter things too much if the unit is in great shape – and this unit is in perfect shape. Hardly a scratch on the face. According to the fellow I bought it from I'm the second owner. He bought it new in the 80's.
It is a really nice looking piece of machinery. Black with white silkscreen letters, black and gray knobs and bright red LEDs. Old school business design. I love it. I'll get a proper picture up soon (For now you get the only picture I could google).
---
Sadly, I can't give you any specs on the unit because I can't find anything about it on-line.
Acquired 2010