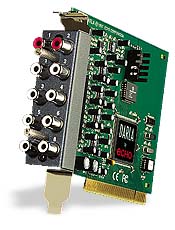 I've had this card for a long time and it is still going strong. The Darla has 20bit-128x oversampling A/D converters, 2 in/8 out on a standard PCI card.
This was originally produced by Event and Echo took them over. Echo continues to provide functional, stable drivers for this card – at least up to WinXP 32bit – which is what I'm using this on.
The only downside to this card is the connector block. DB25 on one side, 10 RCA on the other. It connects directly to the card on the back of the workstation. Really, nothing a RCA to Phono snake can't fix. But don't lose the connector. It is a speciality item.
So what do I use this card for? I have several workstations in the studio running sampler and softsynth software. These workstations are connected via MIDI to the main recorder workstation. The audio outs from these tone generating workstations go to the console. I treat them just like hardware synths. I'm using this Darla card in one workstation and a Gina20 in another.
The Darla card is perfect for this as it gives me 8 outputs to work with. Kontakt and Gigasampler allow you to define the output per sample. I can run the sampled snare out channel 1, the horns out 5/6, etc.