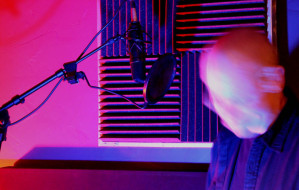 [audio:http://www.graylands.ca/1122/Seven_Graylands-Souls_In_Darkness-00-Ghosts_of_December.mp3]
---
Track Notes:
This is the last song for the new album. I'm pleased with the remake on this. The original contained the same song structure, but I expanded on the idea in the re-recording.
Recording/Mixing:
One various percussion track of congas and tabla and a tambourine track. There are two tracks of various thunder/explosion sounds.
There are one low cello and two high cello tracks, two French horns and one piano track.
This is also the first song I've used my accordion on.
There are two synth tracks. The one in the intro is the Korg EX-8000. About halfway into the song there is a low synth line. This is the Synthesizers.com Modular Synthesizer.
One vocal track. Like on several other of these remakes, I ended up keeping my scratch vocal track for the final version.
I used the M-One XL for reverb.
Copyright 1984-2011: Graylands/Nelson
---
Lyrics:
Watching the ghost parade I know them like friends of mine.
With long necks and holes in arms
My Jesus in the city of skulls
When the prison door slams
It's then I'll remember
I'm miles away
Miles away
I'm chipping away at the super structure
Without arms, without arms
Sometimes I'm close to you
With a dead man in my eyes
Some walls are forever
Some destroyed in a day
I'm miles away
Miles away
The ghosts of December
Never work out quite the same
The ghosts of December
Never work out quite the same
I'm chipping away at the super structure
Without arms, without arms
I'm miles away
Miles away
Watching the ghost parade I know them like friends of mine.
With long necks and holes in arms
My Jesus in the city of skulls
When the prison door slams
It's then I'll remember
I'm miles away
Miles away